In our paintshop we work for customers that like to craft, refine or restore their bikes. We do singletons, prototypes, restorations and small series.
We offer a classical "wet painting" on steel, aluminium, carbon or titanium. This painting technique offers narly every possibility what concerns creativity. If its a simple one color paint job or multicolor patterns, it can be done.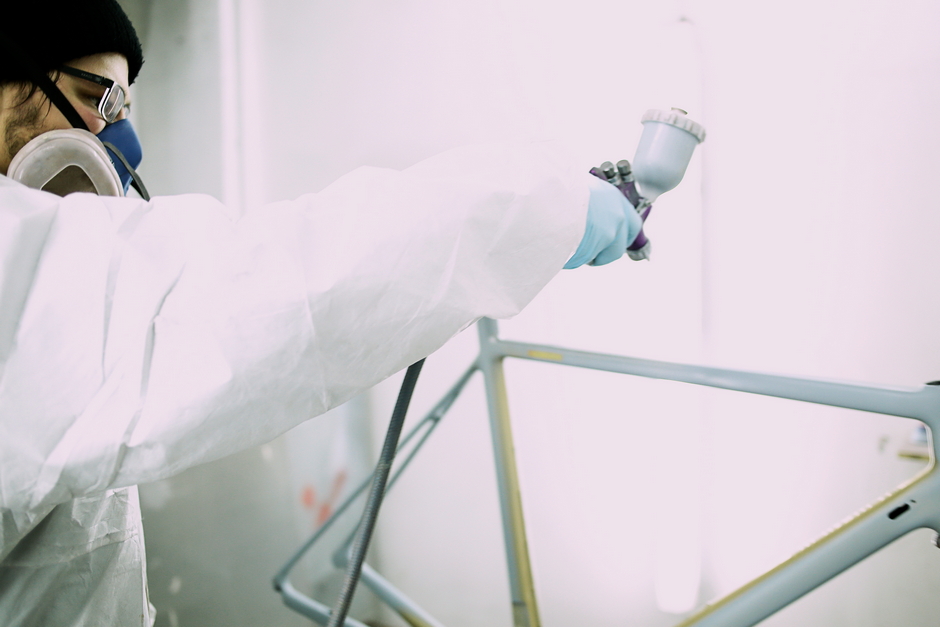 Stripping of old paint
We strip old paint chemically in a lye bath; stripped frames get tempered to let the chemicals evaporate completely. This method is very gentle to the material. Another option we offer is sandblasting with glass pearls. We do not strip paint on carbon but in most cases we can paint over the old lamination/color.
Derusting, Phosphatization
To derust completely and to prepare the surfaces the frames get sandblasted. In case of very delicate steel frames we sand by hand and phosphate afterwards.
Logos, writings, linings, …
Logos and writings are traditinally painted on using stencils or printed out as decal/transfer and sticked on. We carry a wide stock of original transfers or can produce individual and historic decors. For our prints, we use the best materials available on the market (up to 25 micron thickness). If you are seeking for the best possible finish, decals can be sanded in to avoid any unevenness and perfect light reflections.
Pinstripes or luglines are done after old tradition by hand. We fill embossments or engravings before clear coating for perfect sharp contours.
Paint system
A conventional basic paint job usually uses layers of primer, filler, base and clearcoat. We always sand in between the filler and base layer for an perfect finish. The thickness of paint application is optimized for sharp contours of lugs and engravings.
Finish
We offer a matt, silky gloss and high gloss finish. Top of the line is our multiple sanded and polished high gloss finish.
Color range
With our mixing station we can provide nearly every color tone including special colors like "Pearls, Candy, Neons" and many effect paints. If the paint code is unknown, we can match a color by hand. Something that often is necessary for paint repairs and restorations.